A resilience approach was used to guide the strategy renewal. It continues the catchment's proud history of resilience thinking and uses the global Wayfinder resilience guide. The approach involved:
increasing buy-in and collaboration with a diverse range of stakeholders
understanding system components and connections, including community values and sustainability challenges
identifying system tipping points and possible future trajectories
developing and prioritising actions for change.
What is resilience?
Resilience is the capacity of people and the environment to absorb a shock or setback and to flourish in spite of it. It is the capacity to cope with change and continue to evolve positively.
Applying resilience in practice requires an understanding of how a system's resilience changes over time, what causes change and where and how to intervene to influence future direction.
What does it mean for NRM?
A resilience approach focuses on the connections between people and nature and how these connections change. It allows us to consider the point when change could completely transform our social and ecological systems.
Consistent systems are called social-ecological systems and exist at a range of connected scales, from farm to local area to whole-of-catchment.
Increasing the resilience of our social-ecological systems increases capacity to sustain human well-being in the face of disturbance and change by buffering shocks and adapting or transforming. The resilience approach recognises the importance of identifying drivers of change and planning how to adapt to the risks and opportunities.
Key resilience concepts
Multiple future pathways
Interactions between the past, present and future are complex. We don't know how the drivers of change or trends will play out, however, the this strategy is an opportunity to influence future pathways by building catchment resilience (Figure 11).
Sustainable development requires a balance of social boundaries (jobs, health, education and so on) and planetary boundaries (biodiversity loss, ozone depletion, freshwater use and so on) when selecting NRM options (Figure 12).
There are multiple future pathways. Which one plays out depends on future drivers and our management actions. The important thing is for the future pathway to not cross critical tipping points if they breach unsafe planetary boundaries or undermine human rights (Figure 12). In some instances, we have already crossed critical tipping points (such as biodiversity decline and Traditional Owner water rights), so transformation is necessary if we want to create a sustainable, safe and just future.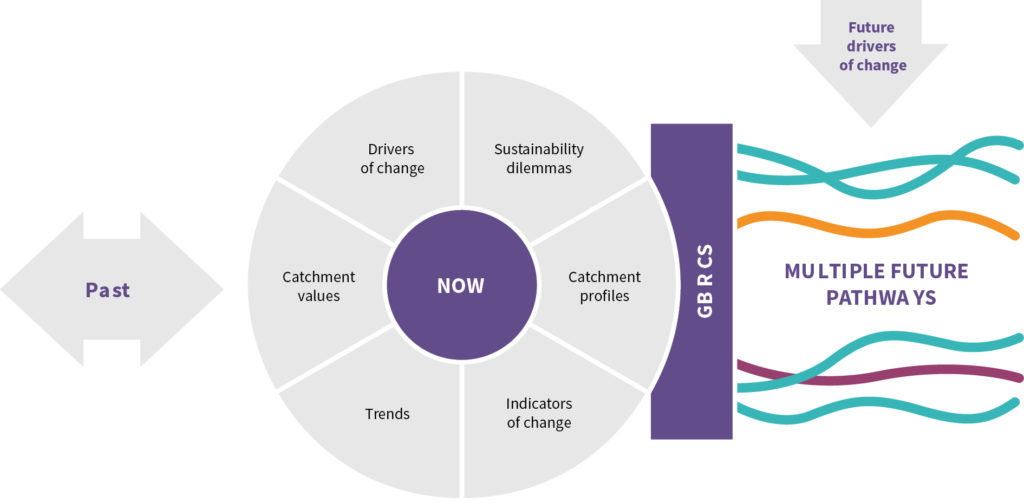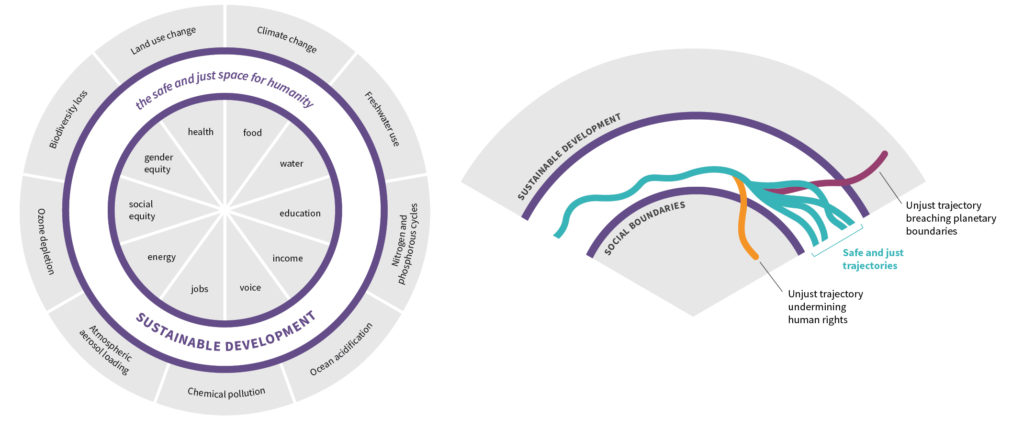 Responding to change
As the catchment, or components of the catchment, changes then opportunities and challenges emerge. How the catchment shapes or responds to change is influenced by its capacity to:
Persist: capacity to stay essentially the same in the face of change. Persistence assumes things will return to normal at some point.
Adapt: capacity to deliberately adapt to change. Adaptation assumes that the change will endure, the purpose will remain the same and management will change.
Adapt while preparing to transform: capacity to deliberately adapt to change, while preparing to fundamentally transform the system in response to change.
Transform: capacity to fundamentally transform in response to change. Transformation means that the management changes as well as the overall purpose. Transformation is a deliberate, significant change in response to enduring change.
No single response is better than another, all are needed. Persistence, adaptation and transformation can all occur at the same time depending on the component, location or timeframe (Figure 13). Understanding the cause, direction and rate of change helps navigate a way forward.
To be resilient, systems need to shape and respond to known and anticipated change, while maintaining capacity to cope with unknown and unexpected change.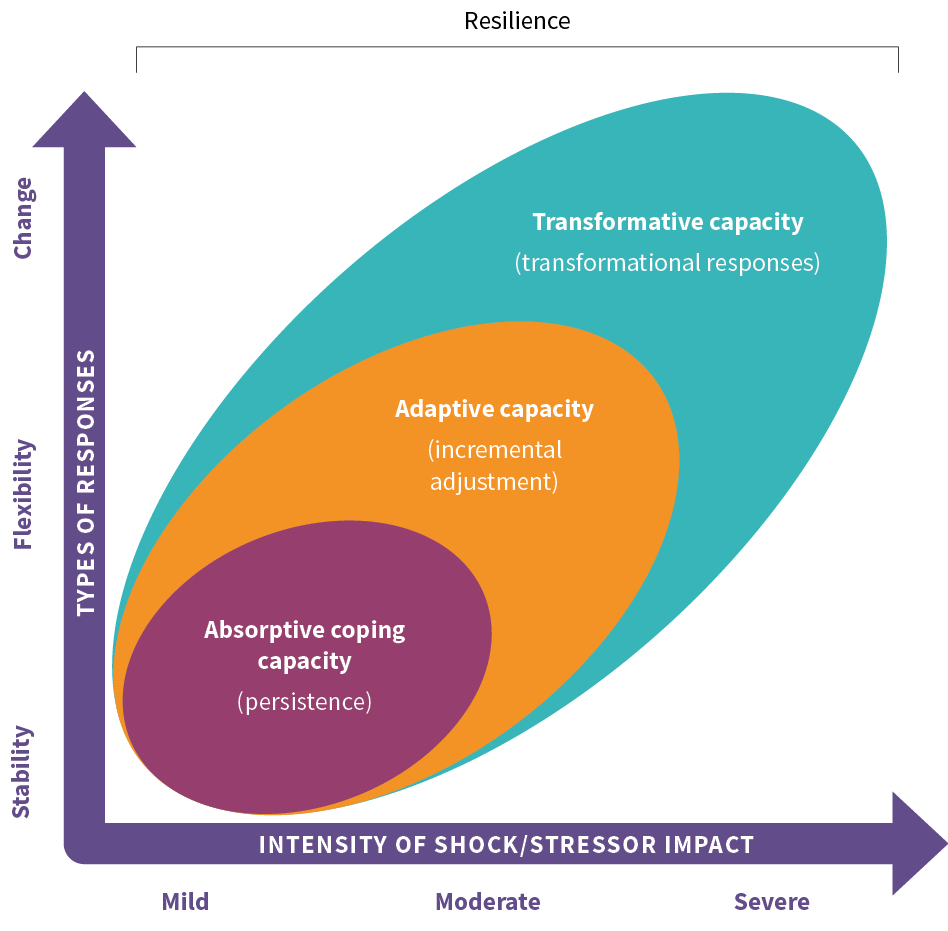 Resilience principles
Resilience principles have been used to guide the development of the strategy, including the identification and prioritisation of possible actions and solutions. Applying these principles ensures the strategy builds the resilience of the catchment's land, water, biodiversity and community. Actions do not need to meet all the criteria, but should align to the majority of the principles. Table 8 outlines the resilience principles.
Table 8: Resilience principles guiding the Goulburn Broken Regional Catchment Strategy
| Resilience principle | Description |
| --- | --- |
| Develop a complexity view of the world | The action(s) takes into account the interactions between social, economic and environmental factors. |
| Plan for change | The action(s) supports or develops governance approaches that embrace change, which in turn helps the catchment prepare for, respond to and learn from change. |
| Foster cohesion, self-organisation and local responsibility | The action(s) fosters cohesive communities that have the internal capacity to find solutions rather than relying on external support, are better able to respond to disturbance and capitalise on opportunities. |
| Design for flexibility across multiple possible futures | The action(s) is flexible from the start, allowing for easy future adaptation. |
| Manage connectivity | The action(s) maintains and restores connectivity to allow flow between parts of a system (such as knowledge, resources and so on). The action(s) address the risks of under or over connection. |
| Value, retain and build diversity and redundancy | The action(s) provides options and potential for different responses under stress. This includes building diversity (of people, cultures, practices, land uses and so on) to increase different responses to shocks and stress. It also involves redundancy or back-ups that can perform similar roles in a system, which reduces the likelihood of failure and aids recovery. |
| Focus on slow variables, leverage points and tipping points | The action(s) builds system awareness and focuses efforts where they can be most useful (such as on causes rather than symptoms of the problem). |
| Learn for change | The action(s) supports a learning-by-doing and forward-focused learning approach that drives adaptation and transformation. This is more useful than relying on hindsight and past experience when dealing with high uncertainty and change. |
| Key change makers known and opportunity context conducive | The action(s) identifies and engages key individuals and groups that have the ability to implement the actions. The action(s) is also appropriate given the broader opportunity context – the larger social, political and institutional setting in which the system and people part (such as laws, policies, social norms and so on). |
| Be feasible and effective | The action(s) is socially, technically, environmentally and economically feasible and will be effective in creating the desired change. |
| Minimise unintented consequences | The action(s) considers any unintended consequences (for example, don't transfer the burden to other people or negatively impact people's safety and wellbeing), is robust against an uncertain future, avoids new lock-ins and maintains as much adaptive and transformative capacity as possible. |
Further information
Resilience webinars with Paul Ryan, Australian Resilience Centre and Ashley Rogers, Goulburn Broken CMA
Show your support
Pledge your support for the Goulburn Broken Regional Catchment Strategy and its implementation.